Welcome to the support site for the Bingo Organization Module.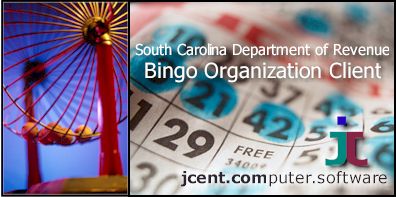 Installation Instructions
Step 1: Contact the South Carolina Department of Revenue and request a password for access to the bingo server. You will also need to register your banking information, if you plan on paying your vouchers electronically.
Step 2: Download and install the free software by clicking on the button below, then select Open or Run From Current Location, depending on your browser. After downloading, the installation program should start automatically. Warning: Do not attempt to reinstall the software over an existing installation unless directed to do so by a JCENT support technician. Doing so will cause data loss.

Step 3: Follow the prompts in the installation program. For most installations, you can accept the default values by clicking Next for each screen.
Step 4: Start the program by clicking Start|Programs|SCDOR Bingo
Step 5: Select File|Add New Organization.. from the main menu.
Step 6: Enter your 9 digit file number (without the dash) and your assigned password in the popup dialog then click the Download Info button.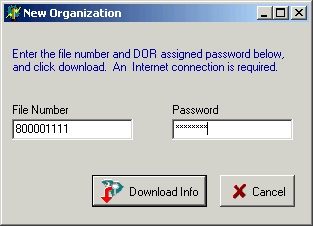 Step 7: Your organization's name and address should appear on the main screen. You are now ready to begin using the software to file quarterly reports, authorize vouchers, and pay vouchers online. For further information, consult the integrated help file by selecting Help|SCDOR Bingo Help from the main menu.
---
Frequently Asked Questions
What are the requirements to run the software?
The software will run on most computers running Windows 98/NT/2000/ or XP. An Internet connection is also required.